DESCO's Commercial Dive Product History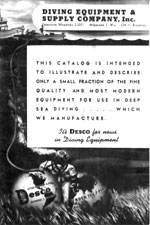 This page will cover non-technical product history such as production numbers, and shipments. Any tidbits of historical interest we find about our products will land here.
DESCO Commercial Catalogs
1949 DESCO Commercial Equipment Catalog (click HERE to download pdf)
DESCO Water Sports Catalogs
| | | | |
| --- | --- | --- | --- |
| | | | |
| 1949 to 54 DESCO Water Sports Catalog (click HERE to download pdf) | 1955 DESCO Water Sports Catalog (click HERE to download pdf) Note this catalog is missing pieces. Only copy we have. | 1956 DESCO Water Sports Catalog (click HERE to download pdf) | 1957 DESCO Water Sports Catalog (click HERE to download pdf |
USN Helium Helmets (45 units), Serial Numbers 74-100 and 113-121
DESCO had been supplying the USN Mark V and USN Helium Helmets to the Navy since WWII. In the early 1970's the U.S. Navy was building two classes of vessels which would depend heavily on the ability to conduct deep diving operations. The two classes were the Edenton Class ATS Salvage and Rescue ship, and the Pigeon Class ASR Submarine Rescue Ship. DESCO's connection to these ships is in providing them with USN Helium helmets.
Edenton Class
USS Edenton ATS-1, USS Beaufort ATS-2, USS Brunswick ATS-3
Three Edenton Class ships were built by the Brooke Marine shipyard in the UK for the US Navy. As each ship was brought into service DESCO provided nine USN Helium Helmets.
| | | | | |
| --- | --- | --- | --- | --- |
| Ship | Desig. | Commissioned | Builder | Helium Helmets |
| USS Edenton | ATS 1 | March 23, 1971 | Brooke Marine UK | 74-82 |
| USS Beaufort | ATS 2 | January 22, 1972 | Brooke Marine UK | 92-100 |
| USS Brunswick | ATS 3 | December 19, 1972 | Brooke Marine UK | 113-121 |
Currently USS Edenton was transferred to the US Coast Guard and after refitting became the USCGC Alex Haley and serves in Alaska.
The USS Beaufort and USS Brunswick were sold to the nation of South Korea in 1996.
Pigeon Class
USS Pigeon ASR-21, USS Ortolan ASR-22
Two Pigeon class ships were built by the Alabama Dry Dock & Shipbuilding Company. Designed for submarine rescue USS Pigeon and USS Ortolan supported the U.S. Navy's Deep Submergence Rescue Vehicles, and carried the McCann Rescue Chamber. The Helium helmet proved it's worth on the salvage of the USS Squalus in 1939 and was an integral component it submarine rescue since. Each ship received nine Helium helmets.
| | | | | |
| --- | --- | --- | --- | --- |
| Ship | Desig. | Commissioned | Builder | Helium Helmets |
| USS Pigeon | ASR 21 | April 28, 1973 | Alabama Dry Dock | 83-91 |
| USS Ortolan | ASR 22 | July 14, 1973 | Alabama Dry Dock | 101-103, 107-112 |
Currently USS Pigeon is mothballed in the Reserve Fleet in California. USS Ortolan was sold for scrap in 2009.
Some of the above information comes from wikipedia and Navsource
Historical Diving Society Commemorative Helmets
Over the years we have done three limited edition commemorative helmets for the Historical Diving Society USA. The first helmet issue was 20 U.S. Navy Mark V Helmets commemorating it s 80th anniversary (1915-1995). The second was 20 Abalone helmets in honor of DESCO's 60th anniversary (1937-1997). The third was 26 USN Helium Helmets commemorating the raising of the USS Squalus in 1939. The 26 helmets were in honor of the 26 souls lost in the sinking.
Historical Diver Magazine
#5 Summer 1995

Historical Diver Magazine
#11 Summer 1997

Historical Diver Magazine
#56 Summer 2008
Desco Diving Equipment in The Movies
DESCO manufactured much of the genuine equipment used in the film "Men of Honor". The helmets used were not actual U.S. Navy Mark V helmets. The films production company chose to use a Commercial helmet top mated to a Mark V breastplate. If you look closely at the helmets in the diving scenes you will note the side windows are oval, and the front door is a screw in (Commercial) type. The Helium Helmet depicted was not a genuine Mark V Helium Helmet. It was made by the film company. Pay close attention to the front door assembly.
For the movie The Deep DESCO made several custom Jack Browne Masks. They were molded in Blue rubber instead of the standard Black. The frames were painted Blue to match. Robert Shaw's character specifically mentions 'DESCO gear" in the film.
We did some work for the independent film The Lost Treasure of Sawtooth Island starring Ernest Borgnine and Seth Bernard. Mr. Borgnine was kind enough to send us one of our catalogs with his autograph. He and his wife Tova were a mainstay of the annual Great Circus Parade in Milwaukee each summer.
Desco Diving Equipment Research and Development
Over the decades DESCO has undertaken research and development projects. Sometimes these projects were to improve existing products, other times to develop new products.
Lightweight Helium Helmet
These two photos in our files are the only record we have of this helmet. It is obviously a model very similar to the Bob Kirby Associated Helium helmet and follow on Yokohama model.
The Original Browne Commercial Diving Helmet
Again we are forced to rely on a few photos in our file cabinet. This helmet has a tall bubble shell and is fitted with Abalone windows, streamlined air inlet elbow, commercial comms, and Abalone exhaust valve.
The breastplate appears to be a hand made one off. The front seems deeper and narrower than a Mark V and the back shape is similar to, but narrower than a Commercial.
The date on the tag is 10-1-45. This may have been an attempt to make a helmet to different enough from the Mark V to spur some sales in a surplus equipment filled market. We aren't believing the 81000 serial number.