Diving Equipment Repair, Inspection and Customization Services
DESCO has 75 years in the business, giving us the experience and capabilities to offer unique services to the diving industry and collectors. Our main focus has always been dedicated to quality free flow, metal diving helmets. We use the manufacturing process to our advantage, lending us the capabilities to repair and restore even the oldest diving helmets. No one can restore an old beat up diving helmet to "as new" condition without replacing the bulk of the worn parts. We could replace all the parts for you; however, we prefer to make sure you are aware of your options and choices first. A well-used intact old diving helmet is more valuable to many collectors then a "technically correct and functional" one. DESCO promises to bring back your old diving helmet as far as its condition and your preferences will allow while keeping you informed and aware of the modifications and values.
DESCO Air Hat Repair and Inspection
DESCO will inspect and repair your DESCO Air Hat diving helmet and provide you a fully detailed report. Our comprehensive Air Hat inspection is satisfactory to the ADC equipment inspection requirements. A record of the inspection is maintained by DESCO. Customers often make upgrades while the diving helmet is at DESCO. Your diving helmet will be evaluated upon receipt and recommendations for needed work will be noted. Any advantageous part replacement or upgrades will be suggested. Once an ideal repair plan is agreed upon we will conduct the work in a timely manner. Emergency and expedited repairs and inspections are available, contact DESCO Corporation for more information.
| | |
| --- | --- |
| | |
| Air Hat Before Restore | Air Hat After Restore |
| | |
Special Order Diving Helmet Manufacturing
DESCO Corporation builds custom diving helmets by strategically combining the off the shelf parts from our classic helmet line. We've created a variety of special order diving helmets for a range of customers including a custom lightweight diving helmet, a Browne commercial diving helmet with a horizontal exhaust valve instead of the standard vertical one, specialized piece helmets, and non-diveable novelty helmets. Contact DESCO Corporation for more information about the capabilities and options for creating your special order customized diving helmet.
Diving Helmet Customization and Retrofitting
DESCO Corporation will adapt our parts to other diving helmets in order to suit all of our customer needs. Our shop will mix and match windows, exhaust valves, lock mechanisms and communications to achieve a distinctive helmet. We adapt and customize new or existing diving helmets.
Retrofitting and upgrading the Chinese TF 12 diving helmets has become popular. In the past we have installed Mark V diving helmet windows, Browne Commercial air block and Mark V elbows to TF 12 diving helmets.
Potential Pitfalls of Modifying Diving Helmets:
The problem with retrofitting diving helmets with non-standard parts is you never know when Murphy and his law will intervene:
Example: A customer wanted his TF 12 diving helmet to function like a Browne Commercial diving helmet. We placed the components as we would on a Browne Commercial diving helmet. The Chinese bonnet shell is shorter than our lightweight shell. Locating the air control valve became an issue. There was an interference problem with the air control valve coming too close to the top left breastplate stud when trying to screw the top on. This was explained to the customer. The customer attempted to live with this issue, but found it was very inconvenient. The wingnut needed to be removed before the top could be unscrewed. The helmet came back and the solution was to relocate the ACV to the diver's right side instead of the left.
DESCO's TF 12 Modification
Many years ago Chinese diving helmets were being imported by the container load. DESCO purchased a TF 12 and a TF 3 for our small helmet collection. They were cheap and DESCO figured they would make a good counterpoint when displayed next to our other helmets. More recently the TF 12 has become a candidate for customizing. We have done a few so Ric decided we would do a custom job on ours. We installed a Mark V front guard in place of the plastic guard. The side windows were removed and new commercial type side windows were installed. The drop pin was replaced with a spring lock. The lashing posts were replaced with loops. Contact DESCO Corporation and find out how we can modify and customize your diving helmet for you.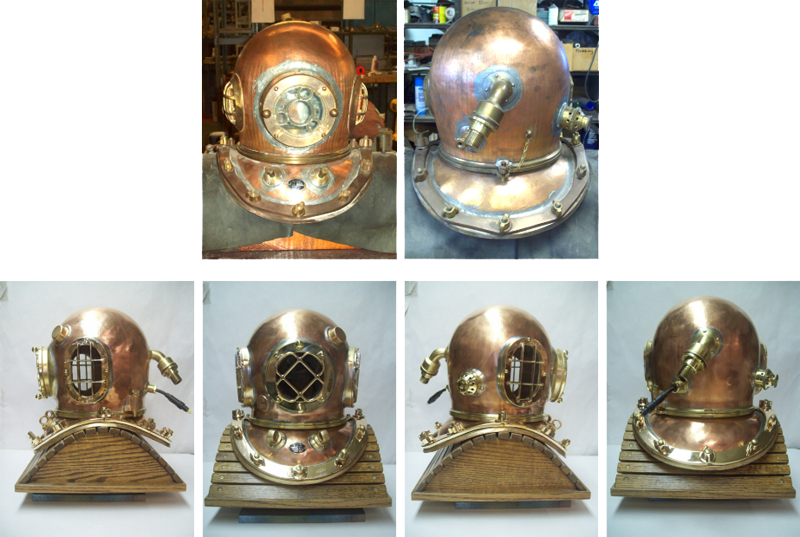 We also modified other TF 12 helmets. With our most heavily modified TF 12, it actually was refitted in three stages over a two year period. In stage one it received Mark V side and top windows. It also received a commercial telephone cup and comms. Stage two brought big changes. We installed Browne Commercial Air/comm block, air control valve and diffuser, and an exhaust valve. We replaced the original ball lever lock with a Mark V ball lever lock.
Diving Helmet Repair
DESCO is well known in the collector market for our ability to repair and restore diving helmets. Our expertise enables us to return damaged diving helmets or one missing part to the best state possible.
Diving Helmet Repair and Restoration
The copper surfaces are often scratched, dented and pitted on old and well used helmets. DESCO will remove dents and buff out most shallow defects. The shell of the diving helmet is copper, a relatively soft metal. Shallow flaws can be buffed out. Deep scratches usually cannot be fully removed as too much copper would be lost. DESCO will patch holes to minimize their visual impact.
Repaired diving helmets can be polished or re-tinned. In some cases, we will recommend just buffing the helmet instead of polishing. This is especially true when the customer wishes the helmet to patina. It is common for collectors to opt for buffing the helmet only. This gives the metal a luster without highlighting the surface flaws. The helmet will gain a natural patina more evenly. Tin plating over flaws makes them stand out even more. High polishing makes them less noticeable then tinning.
DESCO will fabricate or replicate missing or damaged parts. When possible, we will purchase the correct parts from the manufacturer. In cases where this is not possible, DESCO will modify our parts to resemble the original. Where a "factory" replacement is not possible and our parts are unsuitable, we will work on procuring an example we can use to make a casting. A common example of this process Is in replacing missing brails. The problem with this method is using a finished part as a pattern leaves no extra material for finishing the replica. Also when a pattern is made for anew part it is made larger to compensate for shrinkage as the metal cools. Red Brass had a shrinkage factor of about 10%. In order for us to have the capability to do recasts, we have aluminum copies made to serve as patterns. This compounds the shrinkage issue as the aluminum pattern has shrinkage also. Recast replica parts are not perfect replacements, but offer an option for replacing rare or unavailable parts.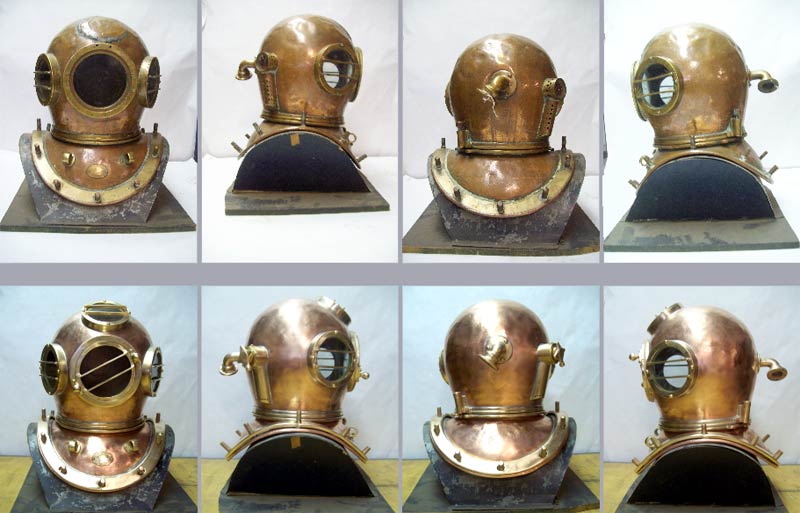 Evaluating a helmet for repair.
Below are some guidelines in contacting us about repairing a helmet.
Emailing DESCO
If you would like DESCO to evaluate your helmet the easiest and least expensive method is to e-mail us photos of the helmet. Shoot the photos in a well lit area on medium resolution. Make sure to take several photos from different angles of damaged places. Take shots of the tag and any markings or numbers. Try and cover the entire helmet so we can judge its overall condition. Please provide any observations of damage or problems with the helmet. A bent part may not be obvious in a photo. Also include things that can't be relayed in photos like whether or not the top will unscrew from the breastplate. Take time to make a list of missing parts and note those you wish to replace. Copies of this information should be sent with the helmet.
Sending the helmet to DESCO.
The most accurate method for evaluating a helmet and providing an accurate cost estimate is for us to have the helmet in our shop. Breastplated helmets should never be shipped assembled together. The helmet should be well packed and shipped with the top and breastplate separated. If the helmet is shipped as a unit the top can compress the breastplate and cause extensive and expensive damage. In the long run is is more cost effective to ship the helmet with the top and breastplate boxed separately than have to repair them. The top and breastplate can be individually boxed then placed together in one larger box as long as the individual boxes are sufficiently strong or reinforced to prevent one from crushing the other. Please include a letter indicating what work you want performed on your helmet. Providing a list of requested work will prevent additional calls or e-mails.
Upon receipt of the helmet we will thoroughly inspect it and provide a firm estimate and time frame for repair. Often we will find additional issues which will be brought to the customer's attention. Many times photos will not show a hidden missing part or a flaw or crack. Customers who don't possess a intimate knowledge of diving helmets may not realize a piece is missing. The customer will need to decide to what level they wish the helmet's condition returned to.
CALL DESCO Corporation 414-272-2371 today for more information regarding our Diving Equipment Services and Repairs, and be sure to SHOP our full selection of top quality commercial diving gear