DESCO 29103 Mark V Diving Helmet
Product Features
DESCO 29103 US Navy Mark V Diving Helmet/tin plated.
(Add $250.00 for polished helmet version)
The DESCO 29103 U.S. Navy Mark V Diving helmet has been in continuous production from 1942 up to today. It started as, and still remains an authentic classic piece of military and commercial diving equipment.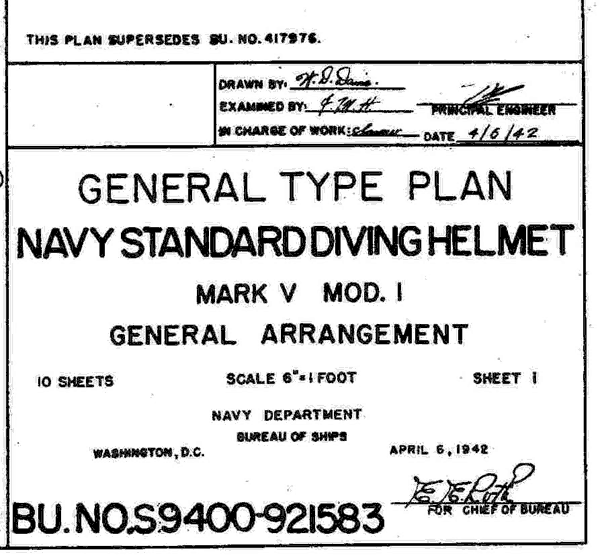 DESCO began production of the U.S. Navy Mark V Diving Helmet in 1942. War contract manufacturers were issued drawings prepared by the U.S. Navy Bureau of Ships. Mark V Helmets produced by the various manufacturers were to adhere to these drawings so parts could be interchanged when necessary. DESCO helmets were and are still made using these drawings and specifications. We still manufacture the helmets as they were originally made. Helmet shells are spun copper, NOT HYDROFORMED, and the breastplates are hand pounded in our original 1940's mandrels, NOT MACHINE STAMPED. These methods give each diving helmet its hand crafted individuality, view DESCO's entire selection of unique diving helmets now.
The DESCO U.S. Navy Mark V Diving Helmet has been in continuous production since 1942. It conforms to the Bureau of Ships drawings which we still have in our files. Three minor changes have been made in the 61 year production run but the basic helmet design has remained constant.
The only material change has been to replace glass windows with Acrylic. This change was approved by the U.S. Navy as the Acrylic windows offered more safety and economy.
Pre 1945 DESCO Mark V Helmets had a football shaped nametag marked "Diving Equipment and Salvage Co. Inc" which was a different shape than called for in BuShips drawings. When the company name changed to Diving Equipment and Supply Co. in late 1945 the tag was changed to an oval shape to conform to the BuShips drawings.
During the war subcontractors supplied parts and sub assemblies to speed war production. Mark V manufacturers (DESCO, Morse, Schrader, and Miller Dunn) used exhaust valve assemblies made by Batteryless Telephone Equipment Company. After the war these parts were made in house at DESCO for our diving helmets.
These three differences are the only ones that exist between a 1942 and a new DESCO Mark V Diving Helmet.
There is one additional difference between a DESCO Mark V Helmet you can purchase today and one from 1942. In 1962 the design of the Non-Return valve was changed by the USN to utilize a cartridge check valve instead of the plunger and seat style of the original design.
The Non-Return Valve change was not counted in the three changes to the Mark V helmet as we consider the Non-Return valve a ancillary part to the Mark V Helmet. It is used on other styles of helmets, and though unwise and dangerous to do, the Mark V Helmet could be dived without a Non-Return Valve.
(Note: This update to the Mark V page is credited to Vince Scarponi for pointing out our omission of this information. Thanks Vince.)
Made to the U.S. Navy Bureau of Ships drawings from the 1940's this is a genuine U.S. Navy Mark V Diving Helmet. The helmet shell is heavy spun copper fitted with bronze castings. All unplated bronze parts are high polished. Standard finish is tin plated (per US Navy Specifications) but the helmet can be ordered polished if desired ($250.00 additional for polishing). Breastplate fits dresses with a U.S. Navy style collar only.
Fittings included with the Mark V Helmet:
Double spring, adjustable tension, automatic exhaust valve with exterior star-wheel, interior chin button, and banana tube to exhaust air to the rear of the helmet.
Four impact resistant Acrylic windows. Side windows are circular, upper window is oval, and front window is circular and mounted in a hinged faceplate.
Non-return valve with standard submarine threads.
Spitcock
Telephone cup
Transceiver
Welding lens bracket
Breastplate eyelets for hose and lifeline attachments.
Breastplate straps, wingnuts, and washers.
Breastplate and faceplate gaskets.
Safety lock & chain.
Telephone gooseneck with female plug assembly installed.
Protective caps for non-return valve and telephone gooseneck.
Weight is approximately 68 lbs.
Ship weight and cost will be determined on a sale by sale basis.

The DESCO U.S. Navy Mark V Helmet is also available in a polished finish, for an additional $250.00.