VIKING HD 1500 (Red)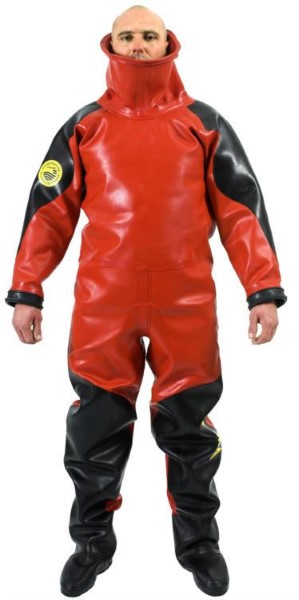 Viking HD Dry Suit in Red
- with Desco yoke
The HD 1500 suit is made of red or black EPDM/natural rubber with a twoway stretch polyester lining. The suit is without valves due to the free flow helmet system. All HD 1500 models have a heavy-duty zip and are equipped with black integrated reinforcements over the shoulders and from the foot up over the knee. As an option, the Viking HD 1500 suit can be equipped with various pockets and a relief zip.
GARMENT MATERIAL
Strong and flexible knitted polyester fabric coated on one side with a blend of un-vulcanised natural rubber (NR) and synthetic EPDM rubber. Total material weight (lining and rubber coating): 1550 ± 100 g/m².
STITCHED SEAMS BECOME SEAMLESS
Stiched seams from the tailoring are covered on the outside with rubber tape of the same rubber blend as the suit material. When all seams are covered, the suit is vulcanised in order to get the seams sealed and watertight. In fact, it can be stated that the vulcanisation process makes the suit seamless. The chemical reaction occuring during vulcanisation joins together and binds the rubber coated garment material and the rubber tape and hence creates one seamless material.
GLUED SEAMS
Glued seams, e.g. attachment of sleeve rings, cuffs, hood or yoke, are covered and glued with vulcanised rubber tape.
FOOTWEAR
Heavy-duty rubber soles are stitched to the legs of the suit and together form the boots. The seam is covered with a double layer of rubber tape for abrasion resistance. The sole itself has a rough "anti-slip" surface. As an alternative to the regular rubber boots, the suit can be delivered with steeltoed safety boots.