VIKING ProTech Dry Suit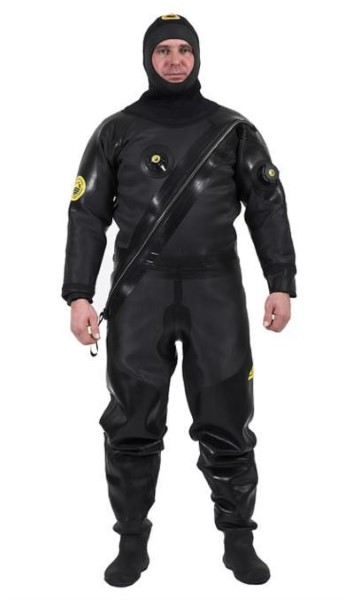 ProTech Dry Suit
The ProTech suit is made of black EPDM/natural rubber on top of a very flexible polyamide/elastane lining. The suit is fitted with rotating inlet and exhaust valves and a medium-duty zip. Black rubber reinforcements are integrated on the suit and covers the lower front leg over the knee to the seat and also across the shoulders. Rubber coated neoprene boots are fitted to the suit for optimal comfort. As an option, the Viking ProTech can be equipped with cargo pocket, cylinder pocket and/or knife pocket and a relief zip.
GARMENT MATERIAL
A very flexible knitted polyamid/elastane fabric coated on one side with a blend of un-vulcanized natural rubber (NR) and synthetic EPDM rubber. The qualities of the material provides a suit with extreme flexibility while meeting requirements of both maximum mobility and durability. Total material weight (lining and rubber coating): 1250 ± 100 g/m2.
STITCHED SEAMS BECOME SEAMLESS
Stiched seams from the tailoring are covered on the outside with rubber tape of the same rubber blend as the suit material. When all seams are covered, the suit is vulcanized in order to get the seams sealed and watertight. In fact, it can be stated that the vulcanization process makes the suit seamless. The chemical reaction occuring during vulcanization joins together and binds the rubber coated garment material and the rubber tape and hence creates one material.
GLUED SEAMS
Glued seams, e.g. attachment of sleeve rings, cuffs, neckseal and hood are covered and glued with vulcanized rubber tape.
FOOTWEAR
Rubber coated neoprene boots are sewn to the legs of the suit. The boot has a fin-strap retainer on the heel to prevent fins from sliding off. An alternative to neoprene boots, are the standard Viking rubber boots.
Shop the entire line of Viking Dry Suits for sale now and receive high-quality deep sea diving protection.