DESCO Fisheries Helmet
Product Features
DESCO 29500 Diving Helmet
DESCO Fisheries Deep Sea Diving Helmet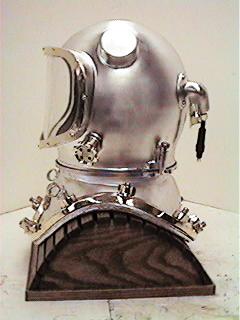 If you're looking for superior protection for your next deep sea diving adventure, trust the DESCO 29500 Diving Helmet. Like all great DESCO products, this diving helmet is designed and constructed with the highest quality materials and craftsmanship. This DESCO Fisheries Diving Helmet features one large curved front window. It can be ordered as a lightweight helmet with a Sponge style top shell and breastplate, which will fit lightweight dress collars (Yokohama), or as a heavyweight deep sea diving helmet with a commercial top shell, and a Commercial or a Mark V breastplate. The helmet comes standard with a Marsh Marine type plug and can be ordered for a 2 wire or 4 wire setup. Communications binding posts are also an option. The air inlet and exhaust valve are Mark V type, and the helmet lock is a spring loaded commercial style. Tin plating is standard but the fisheries diving helmet can be ordered polished ($250.00 additional for polished helmet). Approximate shipping weight 50 lbs.
Option: Air Control Valve
Deep sea diving helmet can be fitted with an integrated air control valve similar to the Browne Commercial Diving Helmet. The ductwork is replaced with tubing and the air is fed through a diffuser.